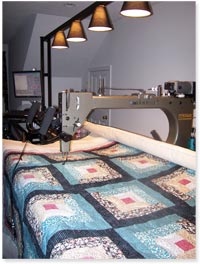 Border 2 Border Quilting Studio will turn your pieced quilt top into a treasured heirloom. We offer a variety of quilting and finishing services as well as small and individual classroom instruction and consultations.
There is nothing else like it! The Gammill Optimum Statler Sticher, a computerized long arm quilting machine that offers the most state of the art quilting available today. It's precision stitching at it's best. There are thousands of patterns to choose from or custom design your own pattern. Either way, your quilt will be a unique treasured heirloom.
You can relax knowing a professional quilter at Border 2 Border Quilting Studio is finishing your quilt.